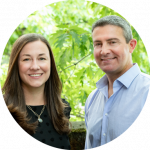 Lisa and Justin
Brokers
A little about us
LISA AND JUSTIN HAVE SPENT MOST OF THEIR ADULT LIVES LEARNING THE INS AND OUTS OF REAL ESTATE WITH HANDS-ON EXPERIENCE.
They've bought and sold many houses including flips, investment properties, and personal homes. Justin's background in property management and running a construction company focused on custom home builds combined with Lisa's design and staging experience has given this dynamic duo an edge when it comes to enhancing the bottom line of their homeowner and investor clients.
Collectively, they've invested in both short-term (AirBNB) and long-term rentals. They've experienced the ups and downs of the market and that experience has made them better agents and Real Estate consultants.



Lisa grew up in Bellevue and Justin is from Ellensburg.
They have lived in various neighborhoods around Seattle and in Snohomish County over the last 20+ years and have an appreciation for each one.
Our clients are awesome
"We spent 6 months making plans to tear down and rebuild our Green Lake house of 34 years, until we c
…
Read More
oncluded that that wasn't for us at this stage in our lives. Instead, we decided to sell our house, and three months later, after an arduous process of sorting through, storing, and tossing decades worth or memories, we had it ready for the springtime market. Who knew, after all those months of hard work, that it would take just two days to sell . . . and at a price considerably higher than what we had anticipated? That stellar turnaround and price was thanks to Lisa Fuqua at Lake & Company Real Estate. We chose Lake & Company because it has deep roots in the local community, and Lisa because it was clear she had a solid understanding of the local market and how to position our house for it. During the entire process, Lisa was very responsive to our queries, and she did a wonderful job clarifying the issues and steps we needed to understand in order to get our house ready, laying out a timetable for a springtime sale, and preparing a great listing, including an asking price, that would attract interest. And interest our house attracted, with strong bids on the first day, and even stronger ones on the second . . . including several that we simply could not ignore. Lisa Fuqua and Lake & Company . . . thank you, thank you, thank you!"
Read Less
"Lisa is an exceptional agent, I would recommend Lisa to friends, family, strangers, and anyone looki
…
Read More
ng to buy in North Seattle (and the surrounding area). Lisa' knowledge of North Seattle is vast and far reaching. Although, we were only looking in North Seattle, I know Lisa has experience throughout the state and has done business in many other counties outside of King. She has hands on experience with new construction, partial and full remodels, townhouses/condos/single family, etc. Lisa's work ethic is a must have in the fast moving King County real estate market. She was accessible 24/7 via email/phone/text which provided comfort during a very stressful time. She understands the process and is realistic with her clients, which is sometimes overlooked in the industry. She was routinely able to identify homes coming on the market making a very stressful process timely and a great success. My wife and I look forward to working with Lisa and Lake Associates for years to come!"
Read Less